Home || Diesel Engines ||Boilers||Feed Systems ||Steam Turbines ||Fuel Treatment ||Pumps ||Refrigeration ||
Fire pump for Ships machinery spaces
Fire protection on ships is provided by detection and fire-fighting equipment together with structural features which are intended to contain an outbreak of fire and the employment when required of non-combustible materials to prevent its spread.

Fire pumps : Two independently powered pumps must be provided in all cargo ships of 1000 tons gross and over and in passenger ships of less than 4000 tons gross. Larger passenger vessels and passenger ferries must have three such pumps. The pumps are fitted with non-return valves if they are of the centrifugal type, to prevent loss of water back through open valves when not running.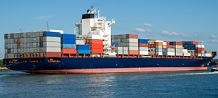 A relief valve is necessary in the system if the pumps are capable of raising the pipeline pressure so that it is greater than the design figure. With centrifugal pumps the relief valve is unlikely to be needed but it is essential for a positive displacement fire pump. Minimum line pressures and capacities are governed by the regulations.

Whilst fire pumps may be used for other duties such as ballast or general service they should not normally be used for pumping oil. Changeover arrangements may be fitted allowing a pump to be used for oily bilges,


Emergency fire pump

This equipment is of the utmost importance to the safety of the ship and due care and attention is to be given to both maintenance and training of the equipment. Instructions are to be clearly posted on start-up procedures and valves are to be clearly marked with their correct operating positions.

The emergency fire pump is to be run and tested weekly for at least five minutes, ensuring that remote starts are working and that the required pressure can be maintained at the furthest away fire hydrant. If any defects are noted, including insufficient water pressure, then the Company is to be notified and an urgent plan agreed to rectify the situation as quickly as possible.

By regulation cargo vessels are provided with emergency fire pumps because a fire in the engine room could put all of the other pumps out of action. Such a pump is indicated in Figure below and is located away from the engine room in the shaft tunnel, steering gear or in the forward part of the ship.

The suction lift of any pump is limited and for this reason emergency fire pumps are restricted to being at a maximum of 6 m from the water level at light draught conditions. Ideally they are installed below the waterline to guarantee avoidance of suction problems. There have been difficulties in the past with some steering gear located emergency fire pumps when the ship was in the ballast condition.

If the location of a centrifugal type emergency fire pump is the steering flat then, because of the high suction lift involved, a priming pump is fitted. This may be friction driven from the fire pump flywheel and once the fire pump is running the priming pump drive wheel, normally held away from the flywheel by a spring, must be held against it until the fire pump is primed. The fire pump (centrifugal type) discharge valve is shut while the pump is being primed and opened gradually as the suction is taken up. On large vessels a special two stage pump arrangement may be used .

(Figure below) The first stage below the waterline is driven by a hydraulic motor. The second stage and the hydraulic power unit are driven by a prime mover (or electric motor from the emergency supply) which can be positioned at more than the normal distance from the waterline. If the fire pump is driven by a water-cooled diesel engine supplied with cooling water from the fire pump a header tank will be provided to ensure that the engine is cooled while the fire pump is being primed. The engine could have a closed circuit fresh-water system, with the water being cooled in a radiator. It is usual however, to fit an air-cooled diesel engine.

Where a closed-circuit fresh-water cooled engine is installed anti-freeze may be needed for the radiator in cold weather. An emergency pump has an independent diesel drive or some alternative such as an electric motor powered from the emergency generator.


Pipelines

Where steel pipes are used, they are galvanized after bending and welding. Their diameter is between 50 mm and 178 mm depending on the size and type of ship. Engine room hydrants must have hoses and nozzles for jet and fog or dual purpose nozzles.


International shore connection

The international shore connection (Figure below) is a standard sized flange with nuts, bolts and washers and a coupling for the ship's fittings. The dimensions are shown. The fitting and joint must be suitable for a working pressure of at least 10.5 bar. Four bolts are required of 16mm diameter and 50mm length, also eight washers.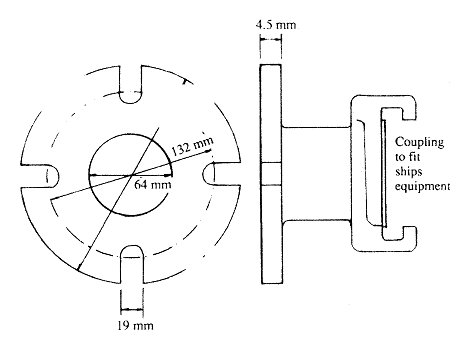 Fig:International shore connection



Hoses and nozzles

Fire hoses must be of approved materials. They are positioned adjacent to hydrants together with suitable nozzles. Dual purpose nozzles can be adjusted by rotation of the sleeve to produce a jet or spray. These are an alternative to having available separate jet and spray or fog nozzles.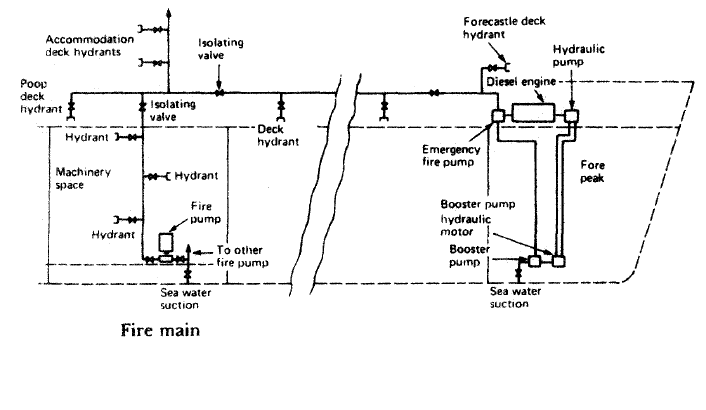 Types of portable fire extinguisher

There are four principal types of portable extinguisher usually found on board ship. These are the soda-acid, foam, dry powder and carbon dioxide extinguishers. Details as below :












Fixed fire extinguishing installations

A variety of different fixed fire fighting installations exist, some of which are specifically designed for certain types of ship. A selection of the more general installations will now be outlined.

An outbreak of fire requires a source of ignition, the presence of combustible material and ample oxygen. Of the three factors, oxygen is provided in large quantities in machinery spaces, accommodation, dry cargo holds and tanker pumprooms by ventilation fans. Air supply trunkings are not only a source for a supply of oxygen to feed the fire but also have potential for carrying smoke from one area to another....


The automatic spray or sprinker system provides a network of sprinkler heads throughout the protected spaces. This system may be used in accommodation areas, and in machinery spaces with certain variations in the equipment used and the method of operation. ....


Foam spreading systems are designed to suit the particular ship's requirements with regard to quantity of foam, areas to be protected, etc. Mechanical foam is the usual substance used, being produced by mixing foam making liquid with large quantities of water. Violent agitation of the mixture in air creates air bubbles in the foam. ...


Fire extinguishing installations employing CO 2 stored under pressure at ambient temperature are extensively used to protect ships' cargo compartments, boiler rooms and machinery spaces. When released the CO 2 is distributed throughout the compartment, so diminishing the relative oxygen content and rendering the atmosphere inert....


Inert gases are those which do not support combustion and are largely nitrogen and carbon dioxide. Large quantities suitable for fire extinguishing can be obtained by burning fuel in carefully measured amounts or by cleaning the exhaust gases from a boiler. ....


A Halon storage system would be very similar to one using carbon dioxide except that fewer cylinders would be required. The liquefied Halon is usually pressurised in the cylinders with nitrogen in order to increase the speed of discharge. ....




Other important fire & safety equipments


Marine machineries - Useful tags

Marine diesel engines ||Steam generating plant ||Air conditioning system ||Compressed air ||Marine batteries ||Cargo refrigeration ||Centrifugal pump ||Various coolers ||Emergency power supply ||Exhaust gas heat exchangers ||Feed system ||Feed extraction pump || Flow measurement || Four stroke engines || Fuel injector || Fuel oil system || Fuel oil treatment ||Gearboxes || Governor || Marine incinerator || Lub oil filters || MAN B&W engine || Marine condensers || Oily water separator || Overspeed protection devices || Piston & piston rings || Crankshaft deflection || Marine pumps || Various refrigerants || Sewage treatment plant || Propellers || Power Plants || Starting air system || Steam turbines || Steering gear || Sulzer engine || Turbine gearing || Turbochargers || Two stroke engines || UMS operations || Drydocking & major repairs || Critical machinery || Deck machineries & cargo gears || Control and instrumentation ||Fire protection ||Engine room safety ||


Machinery Spaces.com is about working principles, construction and operation of all the machinery items in a ship intended primarily for engineers working on board and those who working ashore . For any remarks please Contact us

Copyright © 2010-2016 Machinery Spaces.com All rights reserved.
Terms and conditions of use
Read our privacy policy|| Home page||