Home || Diesel Engines ||Boilers||Feed Systems ||Steam Turbines ||Fuel Treatment ||Pumps ||Refrigeration ||
Self contained breathing apparatus for fire protection & control system for cargo ships
Many fire fighting situations may require the use of some form of breathing apparatus. The use of such equipment will ensure a supply of oxygen to the wearer so that he can perform his particular tasks in safety. Two basic types are in useóthe smoke helmet and the self-contained unit using air cylinders.

The smoke helmet arrangement uses a helmet which covers the head and is connected to an air hose. A hand operated pump or bellows supplies the air. A system of signals between user and supplier must be arranged to ensure safe, correct operation.

The self-contained unit consists of one or two cylinders of compressed air kept in a harness which is carried on the back (Figure ). The high pressure air is fed through a reducing valve and then to a demand valve. The demand valve is fitted into a face mask and supplies air to meet the breathing requirements of the wearer.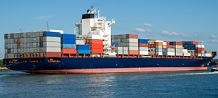 A non-return valve permits breathing out to atmosphere. A warning whisde sounds when the air pressure falls to a low value. A standard cylinder will allow for about 20 to 30 minutes' operation.


Types of equipment

Air may be used in several different ways to provide life support and consequently breathing, rescue and resuscitation equipment is available in many different forms depending on the particular requirement, and is produced by a number of manufacturers. The main basic types may be listed as follows: -
Self-contained compressed air breathing apparatus, both demand and positive pressure types.
Airline breathing equipment served by cylinder pack.
Emergency escape breathing devices. (EEBD)
Emergency life support apparatus. (ELSA)
Resuscitation equipment.
During the use of all compressed air breathing equipment, other than escape sets, E.L.S.A. sets and resuscitation apparatus, a record of the operational usage must be kept on the bridge to provide warning for those outside a space of when an air supply is about to be exhausted. The method of establishing the allowable time in a space wearing an S.C.B.A. set is described below.

During preparation of the above equipment strict adherence to the manufacturers instructions must be complied with. A description of the types of equipment onboard is to be included within the ship-specific Fire Training Manual if carried


Working duration of S.C.B.A.

The working duration of a self-contained breathing apparatus will vary considerably from one wearer to another and will also depend on the amount of effort being expended. As a rough guide, it can be assumed that a trained wearer in fit condition and working reasonably hard will consume about 40 litres of free air per minute; and inexperienced person can easily double this rate of consumption.

Compressed air cylinders are of various sizes, usually of either 9 or 6 litre water capacity. The fully charged pressure of cylinders also varies. Some types are charged to as high as 300 bar (4500 p.s.i.). The maximum charging pressure is always stamped on either the neck or the shoulder of a cylinder. To obtain the approximate quantity of free air in a cylinder, simply multiply the water capacity in litres by the pressure in either bars, atmospheres or Kg/cm2. For example, a 6 litre cylinder charged to 200 bars: 6 x 200 = 1200 litres (approximately) On the basis of a consumption of 40 litres/minute the rated Total Duration of such a cylinder would be: 1200 = 30 minutes. 40 However, the Working Duration always allows for a safety reserve of 10 minutes and in this case it will therefore be 20 minutes.

A log is to be maintained by the Emergency Party which will record time of entry into a space, time due out, and bottle air pressure for each SCBA wearer.


Face masks

Most modern facemasks are made of neoprene or similar durable and chemical resistant materials. There are, however, some that are still made of rubber based materials. Regardless of type, facemasks should always be washed in mild soapy water (not detergent) after use and then rinsed in clean fresh water, wiped with a clean cloth and allowed to dry gently. Rubber based masks should periodically be treated with paraffin wax to prevent perishing. Visors should be protected against scratching. Minor scratches and marks are sometimes unavoidable but most can be easily removed by polishing with brass polish.

Exhale valves, which are allowed to become dirty will not seal properly and toxic atmosphere may then enter the mask. Rubber valves found in the Demand type sets will become stretched or perished after a while and it is important to renew them in accordance with the manufacturer's instructions.

Many masks are fitted with an inner or ori-nasal mask, the purpose of which is two-fold. All exhaled air is confined to the space in this inner mask before it is exhausted to atmosphere. This not only reduces the possibility of a build-up of CO2 within the mask as a whole but it effectively minimises misting of the visor.


Fireman's outfits

For tackling serious fires, firemanís outfits are supplied which consist of special heat resistant suit, gloves, boots and helmet, as well as additional equipment such as safety lamps, fire axes and breathing apparatus. It is essential that the fire suit is cared for and stowed neatly without creasing, ready for immediate use.

All firemenís outfits are to be checked weekly to ensure all equipment is present. Safety lamps are to be tested monthly to ensure correct operation. Rechargeable batteries are to be discharged and then recharged to prolong their life expectancy.




Refilling air bottles

Air bottles can be refilled on board where an air compressor especially designed for this purpose is fitted. There is a strict criteria laid down for systems supplying compressed air for breathing purposes. The compressors must provide air which is free from any contaminants that could cause harm to health, cause discomfort or be detrimental to the safe operation of the air bottles. The air must also be free from bad smells or taste. Air contained in BA bottles must be changed at least every two years. Records are to be maintained accordingly.

Annual testing is to be carried out by a competent shore maintenance company to check for the quality of the air from the compressor in order to ensure it is free from oil particles and other contaminants. After a successful test, a certificate is to be issued and retained onboard.

If a BA bottle compressor is fitted it is to be connected to the shipís emergency power supply. A log of running hours is to be maintained along with a record of maintenance including dates of filter changes. Where there is no BA bottle compressor on board, bottles are to be sent ashore for recharging. Air bottles are to be pressure tested ashore every five year or as required by Flag, whichever is the shorter period.


Emergency escape breathing devices (EEBD)

An EEBD is a supplied air or oxygen device to be only used for escape from a compartment that has a hazardous atmosphere. EEBDs shall not be used for fighting fires, entering oxygen deficient spaces, or worn by fire fighters.

An EEBD shall have service duration of at least 10 minutes. The number of EEBDs onboard is dependent upon Flag State regulations. The location of this equipment is to be clearly shown on the Fire Control Plan. Consideration should be given for placing such devices along the escape routes within the machinery spaces or at the foot of each escape ladder within the space. In addition, control spaces and work shops located within the machinery spaces should also be considered for the possible location of such devices.


Safe working practices

Accidents are usually the result of carelessness, mistakes, lack of thought or care, and often result in injury. Consideration will now be given to avoiding accidents, largely by the adoption of safe working practices. Working clothes should be chosen with the job and its hazards in mind. They should fit fairly closely with no loose flaps, straps or ragged pockets. Clothing should cover as much of the body as possible and a stout pair of shoes should be worn. Neck chains, finger rings and wristwatches should not be worn, particularly in the vicinity of rotating machinery. Where particular hazards are present appropriate protection, such as goggles or ear muffs, should be worn.

When overhauling machinery or equipment it must be effectively isolated from all sources of power. This may involve unplugging from an electrical circuit, the removal of fuses or the securing open of circuit breakers. Suction and discharge valves of pumps should be securely closed and the pump casing relieved of pressure. Special care should be taken with steam-operated or steam-using equipment to ensure no pressure build-up can occur.

When lifting equipment during overhaul, screw-in eye bolts should be used where possible. These should be fully entered up to the collar and the threads on the eyebolt and in the equipment should be in good condition. Any lifting wires should be in good condition without broken strands or sharp edges.

Before any work is done on the main engine, the turning gear should be engaged and a warning posted at the control position. Lubricating oil in the working area should be cleaned up and where necessary suitable staging erected. The turning gear should be made inoperative if not required during the overhaul. Where it is used, care must be taken to ensure ail personnel are clear before it is used.

Where overhead work is necessary suitable staging should be provided and adequately lashed down. Staging planks should be examined before use and where suspect discarded. Where ladders are used for access they must be secured at either end. Personnel working on staging should take care with tools and store them in a container.

Boiler blowbacks can cause serious injury and yet with care can usually be avoided. The furnace floor should be free of oil and burners regularly checked to ensure that they do not drip, particularly when not in use. The manufacturer's instructions should be followed with regard to lighting up procedures. Generally this will involve blowing through the furnace (purging) with air prior to lighting up. The fuel oil must be at the correct temperature and lit with a torch. If ignition does not immediately occur the oil should be turned off and purging repeated before a second attempt is made. The burner should be withdrawn and examined before it is lit.

Entry into an enclosed space should only take place under certain specified conditions. An enclosed space, such as a duct keel, a double bottom tank, a cofferdam, boiler, etc. cannot be assumed to contain oxygen. Anyone requiring to enter such a space should only do so with the permission of a responsible officer. The space should be well ventilated before entry takes place and breathing apparatus taken along; it should be used if any discomfort or drowsiness is felt. Another person should remain at the entrance to summon assistance if necessary, and there should be a means of communication arranged between the person within the space and the attendant.

Lifelines and harness should be available at the entrance to the space. The attendant should first raise the alarm where the occupant appears in danger but should not enter the space unless equipped with breathing apparatus.

Training in the use of safety equipment and the conduct of rescues is essential for all personnel involved.

Fixed installations

A variety of different fixed fire fighting installations exist, some of which are specifically designed for certain types of ship. A selection of the more general installations will now be outlined.

An outbreak of fire requires a source of ignition, the presence of combustible material and ample oxygen. Of the three factors, oxygen is provided in large quantities in machinery spaces, accommodation, dry cargo holds and tanker pumprooms by ventilation fans. Air supply trunkings are not only a source for a supply of oxygen to feed the fire but also have potential for carrying smoke from one area to another....


The automatic spray or sprinker system provides a network of sprinkler heads throughout the protected spaces. This system may be used in accommodation areas, and in machinery spaces with certain variations in the equipment used and the method of operation. ....


Foam spreading systems are designed to suit the particular ship's requirements with regard to quantity of foam, areas to be protected, etc. Mechanical foam is the usual substance used, being produced by mixing foam making liquid with large quantities of water. Violent agitation of the mixture in air creates air bubbles in the foam. ...


Fire extinguishing installations employing CO 2 stored under pressure at ambient temperature are extensively used to protect ships' cargo compartments, boiler rooms and machinery spaces. When released the CO 2 is distributed throughout the compartment, so diminishing the relative oxygen content and rendering the atmosphere inert....


Inert gases are those which do not support combustion and are largely nitrogen and carbon dioxide. Large quantities suitable for fire extinguishing can be obtained by burning fuel in carefully measured amounts or by cleaning the exhaust gases from a boiler. ....


A Halon storage system would be very similar to one using carbon dioxide except that fewer cylinders would be required. The liquefied Halon is usually pressurised in the cylinders with nitrogen in order to increase the speed of discharge. ....




Related fire & safety matters



Marine machineries - Useful tags

Marine diesel engines ||Steam generating plant ||Air conditioning system ||Compressed air ||Marine batteries ||Cargo refrigeration ||Centrifugal pump ||Various coolers ||Emergency power supply ||Exhaust gas heat exchangers ||Feed system ||Feed extraction pump || Flow measurement || Four stroke engines || Fuel injector || Fuel oil system || Fuel oil treatment ||Gearboxes || Governor || Marine incinerator || Lub oil filters || MAN B&W engine || Marine condensers || Oily water separator || Overspeed protection devices || Piston & piston rings || Crankshaft deflection || Marine pumps || Various refrigerants || Sewage treatment plant || Propellers || Power Plants || Starting air system || Steam turbines || Steering gear || Sulzer engine || Turbine gearing || Turbochargers || Two stroke engines || UMS operations || Drydocking & major repairs || Critical machinery || Deck machineries & cargo gears || Control and instrumentation ||Fire protection ||Engine room safety ||





Machinery Spaces.com is about working principles, construction and operation of all the machinery items in a ship intended primarily for engineers working on board and those who working ashore . For any remarks please Contact us

Copyright © 2010-2016 Machinery Spaces.com All rights reserved.
Terms and conditions of use
Read our privacy policy|| Home page||