Home || Diesel Engines ||Boilers||Feed Systems ||Steam Turbines ||Fuel Treatment ||Pumps ||Refrigeration ||
Fire detection systems, Fire flaps & Quick closing valves
The fire detection system is to be classed as Critical Equipment and must be maintained in good working order. Any defects with this equipment must be notified to the management office without delay so that technicians can be arranged and Class notified as appropriate.

It is imperative the crew is familiar with the operation of the system and operating instructions must be posted in the working language of the vessel, adjacent to each control panel. A description of the system and operating procedures must be included within the ship-specific Fire Training Manual.

The procedure for isolating zones must include notification of both the Deck OOW and Duty Engineer and log book entries made as appropriate. Machinery spaces not left in UMS condition with zones isolated. Spaces not covered by a fire detection system should be covered by regular fire patrols, weather permitting. Such patrols should not utilise the bridge lookout during the hours of darkness.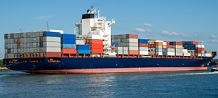 The Electrical Officer is responsible for maintaining a test schedule for all detector heads onboard and this should include the periodical cleaning and maintenance required by the manufacturer's instructions. Sufficient stock of testing equipment is to be kept onboard along with at least one spare detector head of each type fitted onboard.


Fire flaps

Successful tackling of a fire is highly dependant on stopping air flow and to this end it is very important that all fire flaps are tested fully and regularly. A flap that will close only part of the designed range will only serve to assist a fire. All flaps, dampers and ventilators should be numbered and included in a "close-down" plan kept at the vessel's Fire Control Centre – normally the Bridge. Therefore each month all fire flaps are to be tested through their full range. A certain amount of flaps are to be operated weekly so that over a monthly period all fire flaps are operated.

A checklist is to be established to ensure that no flaps are missed. An officer is to take part in this check to confirm satisfactory operation of the vent and verify that adequate tightness of the vent is achieved. On completion of this check any defective vents are to be reported to the Chief Officer and Chief Engineer.

In the event of flaps where visual confirmation of tightness cannot be ascertained easily the Chief Engineer is to assess the best way of carrying out this inspection and include this in the vessels PM system. The period of inspection in this case is not to exceed 3 months. All vents are to be included in the vessels regular greasing routine.


Quick closing valves

The Chief Engineer must produce a schedule to periodically test the quick closing valves onboard. These tests must be done monthly ensuring that equipment is not running during the tests. Where the vessel's current trading pattern makes this schedule impracticable, an alternative schedule must be agreed with the Fleet Superintendent.



Types of portable fire extinguisher

There are four principal types of portable extinguisher usually found on board ship. These are the soda-acid, foam, dry powder and carbon dioxide extinguishers. Details as below :












Fixed fire extinguishing installations

A variety of different fixed fire fighting installations exist, some of which are specifically designed for certain types of ship. A selection of the more general installations will now be outlined.

An outbreak of fire requires a source of ignition, the presence of combustible material and ample oxygen. Of the three factors, oxygen is provided in large quantities in machinery spaces, accommodation, dry cargo holds and tanker pumprooms by ventilation fans. Air supply trunkings are not only a source for a supply of oxygen to feed the fire but also have potential for carrying smoke from one area to another....


The automatic spray or sprinker system provides a network of sprinkler heads throughout the protected spaces. This system may be used in accommodation areas, and in machinery spaces with certain variations in the equipment used and the method of operation. ....


Foam spreading systems are designed to suit the particular ship's requirements with regard to quantity of foam, areas to be protected, etc. Mechanical foam is the usual substance used, being produced by mixing foam making liquid with large quantities of water. Violent agitation of the mixture in air creates air bubbles in the foam. ...


Fire extinguishing installations employing CO 2 stored under pressure at ambient temperature are extensively used to protect ships' cargo compartments, boiler rooms and machinery spaces. When released the CO 2 is distributed throughout the compartment, so diminishing the relative oxygen content and rendering the atmosphere inert....


Inert gases are those which do not support combustion and are largely nitrogen and carbon dioxide. Large quantities suitable for fire extinguishing can be obtained by burning fuel in carefully measured amounts or by cleaning the exhaust gases from a boiler. ....


A Halon storage system would be very similar to one using carbon dioxide except that fewer cylinders would be required. The liquefied Halon is usually pressurised in the cylinders with nitrogen in order to increase the speed of discharge. ....




Other important fire & safety equipments




Marine machineries - Useful tags

Marine diesel engines ||Steam generating plant ||Air conditioning system ||Compressed air ||Marine batteries ||Cargo refrigeration ||Centrifugal pump ||Various coolers ||Emergency power supply ||Exhaust gas heat exchangers ||Feed system ||Feed extraction pump || Flow measurement || Four stroke engines || Fuel injector || Fuel oil system || Fuel oil treatment ||Gearboxes || Governor || Marine incinerator || Lub oil filters || MAN B&W engine || Marine condensers || Oily water separator || Overspeed protection devices || Piston & piston rings || Crankshaft deflection || Marine pumps || Various refrigerants || Sewage treatment plant || Propellers || Power Plants || Starting air system || Steam turbines || Steering gear || Sulzer engine || Turbine gearing || Turbochargers || Two stroke engines || UMS operations || Drydocking & major repairs || Critical machinery || Deck machineries & cargo gears || Control and instrumentation ||Fire protection ||Engine room safety ||





Machinery Spaces.com is about working principles, construction and operation of all the machinery items in a ship intended primarily for engineers working on board and those who working ashore . For any remarks please Contact us

Copyright © 2010-2016 Machinery Spaces.com All rights reserved.
Terms and conditions of use
Read our privacy policy|| Home page||