A diesel oil daily service tank may be installed and is connected to the system via a three-way valve. The engine can be started up and manoeuvred on diesel oil or even a blend of diesel and heavy fuel oil. The mixing tank is used to collect recirculated oil and also acts as a buffer or reserve tank as it will supply fuel when the daily service tank is empty.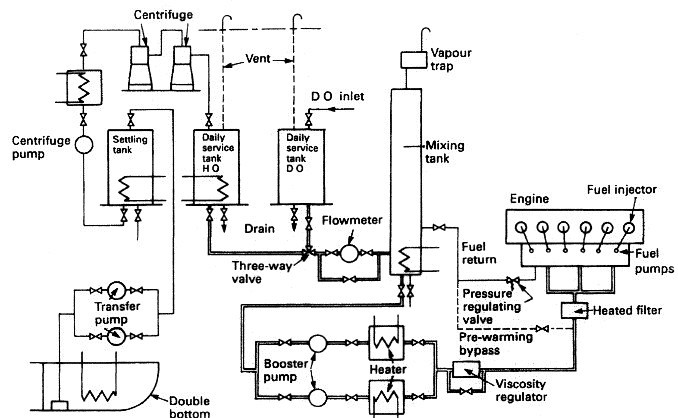 The system includes various safety devices such as low-level alarms and remotely operated tank outlet valves which can be closed in the event of a fire.
Operation on Heavy Fuel Oil
Main engines designed to manoeuvre on heavy fuel oil are to be operated according to the manufacturer's instructions. All other types of main engines are to be manoeuvred on diesel oil according to the manufacturers' instructions.
In the event of problems during manoeuvring on engines using heavy oil there must be no hesitation in changing over to diesel oil irrespective of whether the engines are being operated using bridge control, or using engine room control.
It is the Chief Engineer's responsibility to inform the Master of the particular engine type's maximum period that it can safely remain in the stopped position. He is also to inform the Master of the procedures which will have to be carried out if the particular engine type's maximum period at standstill during manoeuvring is exceeded.
Fuel injection
The function of the fuel injection system is to provide the right amount of fuel at the right moment and in a suitable condition for the combustion process. There must therefore be some form of measured fuel supply, a means of timing the delivery and the atomisation of the fuel. The injection of the fuel is achieved by the location of cams on a camshaft. This camshaft rotates at engine speed for a two-stroke engine and at half engine speed for a four-stroke. There are two basic systems in use, each of which employs a combination of mechanical and hydraulic operations. The most common system is the jerk pump; the other is the common rail.
Related Information:
Function of fuel injector for a diesel engine
Other info pages !
Home page
Four stroke cycle diesel engines
The fuel oil system for a diesel engine
Function of fuel injector
Lubricating oil system for a marine diesel engine
Fresh water & sea water cooling system
Two stroke cycle diesel engines
Scavenging methods
Dealing scavange fires
Heat exchanger for running machinery
Starting air system for diesel engine
Power measurement -Engine indicator
Sea water circulation of coolers
Gearing arrangement
Function of governors
MAN B&W diesel engine
Sulzer RTA72U diesel engine
Couplings, clutches and gearboxes of a marine diesel engine
Explosion relief valve
Cylinder relief valve
Diesel engine Turning gear
Crankcase oil mist detector
Marine machineries - Useful tags
Marine diesel engines
||
Steam generating plant
||
Air conditioning system
||
Compressed air
||
Marine batteries
||
Cargo refrigeration
||
Centrifugal pump
||
Various coolers
||
Emergency power supply
||
Exhaust gas heat exchangers
||
Feed system
||
Feed extraction pump
||
Flow measurement
||
Four stroke engines
||
Fuel injector
||
Fuel oil system
||
Fuel oil treatment
||
Gearboxes
||
Governor
||
Marine incinerator
||
Lub oil filters
||
MAN B&W engine
||
Marine condensers
||
Oily water separator
||
Overspeed protection devices
||
Piston & piston rings
||
Crankshaft deflection
||
Marine pumps
||
Various refrigerants
||
Sewage treatment plant
||
Propellers
||
Power Plants
||
Starting air system
||
Steam turbines
||
Steering gear
||
Sulzer engine
||
Turbine gearing
||
Turbochargers
||
Two stroke engines
||
UMS operations
||
Drydocking & major repairs
||
Critical machinery
||
Deck machineries & cargo gears
||
Control and instrumentation
||
Fire protection
||
Engine room safety
||