Home || Diesel Engines ||Boilers||Feed Systems ||Steam Turbines ||Fuel Treatment ||Pumps ||Refrigeration ||
Liquid Flow Quantity and Flow Velocity Measurement Instruments
Shipboard machinery must operate within certain desired parameters. Instrumentation enables the parameters—liquid flow level,quantity,velocity and so on—to be measured or displayed against a scale.

Flow measurement can be quantity measurement, where the amount of liquid which has passed in a particular time is given, or a flow velocity which, when multiplied by the pipe area, will give a rate of flow.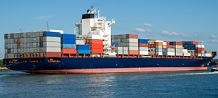 A rotating pair of intermeshing vanes may be used which are physically displaced by the volume of liquid passing through . The number of rotations will give a measure of the total quantity of liquid that has passed. The rotation transfer may be by mechanical means, such as gear wheels, or the use of a magnetic coupling. Another method is the use of a rotating element which is set in motion by the passing liquid .

A drive mechanism results in a reading on a scale of total quantity. The drive mechanism may be mechanical, using gear wheels or electrical where the rotating element contains magnets which generate a current in a pick-up coil outside the pipe.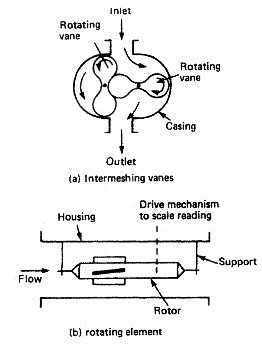 Fig: Flow quantity measurement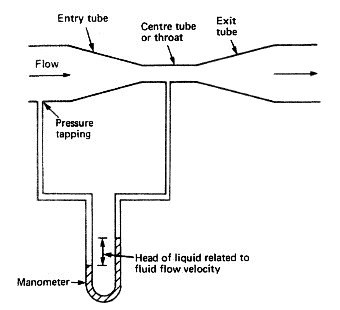 Fig: Ventury tube

Flow velocity measurement

The venturi tube

This consists of a conical convergent entry tube, a cylindrical centre tube and a conical divergent outlet. Pressure tappings led to a manometer will give a difference in head related to the fluid flow velocity. The operating principle is one of pressure conversion to velocity which occurs in the venturi tube and results in a lower pressure in the cylindrical centre tube.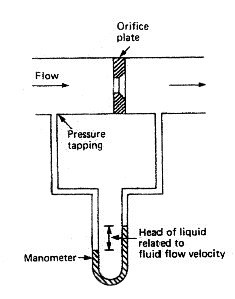 Fig: Orifice plate

The orifice plate

This consists of a plate with an axial hole placed in the path of the liquid. The hole edge is square facing the incoming liquid and bevelled on the outlet side . Pressure tappings before and after the orifice plate will give a difference in head on a manometer which can be related to liquid flow velocity.



Related Ships Instruments:





Marine machineries - Useful tags

Marine diesel engines ||Steam generating plant ||Air conditioning system ||Compressed air ||Marine batteries ||Cargo refrigeration ||Centrifugal pump ||Various coolers ||Emergency power supply ||Exhaust gas heat exchangers ||Feed system ||Feed extraction pump || Flow measurement || Four stroke engines || Fuel injector || Fuel oil system || Fuel oil treatment ||Gearboxes || Governor || Marine incinerator || Lub oil filters || MAN B&W engine || Marine condensers || Oily water separator || Overspeed protection devices || Piston & piston rings || Crankshaft deflection || Marine pumps || Various refrigerants || Sewage treatment plant || Propellers || Power Plants || Starting air system || Steam turbines || Steering gear || Sulzer engine || Turbine gearing || Turbochargers || Two stroke engines || UMS operations || Drydocking & major repairs || Critical machinery || Deck machineries & cargo gears || Control and instrumentation ||Fire protection ||Engine room safety ||



Machinery Spaces.com is about working principles, construction and operation of all the machinery items in a ship intended primarily for engineers working on board and those who working ashore . For any remarks please Contact us

Copyright © 2010-2016 Machinery Spaces.com All rights reserved.
Terms and conditions of use
Read our privacy policy|| Home page||