Function of feed pump in a boiler feed system / steam turbines




The feed pump raises the feedwater

The feed pump raises the feedwater to a pressure high enough for it to enter the boiler. For auxiliary boilers, where small amounts of feedwater are pumped, a steam-driven reciprocating positive displacement pump may be used. Another type of feed pump often used on package boiler installations is known as an 'electro feeder'. This is a multi-stage centrifugal pump driven by a constant speed electric motor. The number of stages is determined by the feed quantity and discharge pressure.

Steam turbine-driven feed pumps are usual with high-pressure watertube boiler installations. A typical turbo-feed pump is shown in Figure above. The two-stage horizontal centrifugal pump is driven by an impulse turbine, the complete assembly being fitted into a common casing.



The turbine is supplied with steam directly from the boiler and exhausts into a back-pressure line which can be used for feed heating. The pump bearings are lubricated by filtered water which is tapped off from the first-stage impeller. The feed discharge pressure is maintained by a governor, and overspeed protection trips are also provided.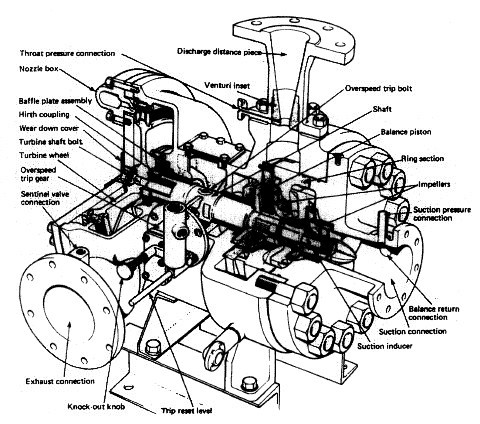 Fig:Boiler feed pump
Related Info:
Closed feed system for an auxiliary boiler - operating principle
Open feed system for an auxiliary boiler - how it works
Auxiliary Feed systems for boilers and steam turbines
Function of condenser in a feed system for boiler and steam turbine
How De-aerator works in a boiler feed system
Heat exchangers in a boiler feed system / steam turbines
Boiler feed operation and maintenance


Machinery Spaces.com is about handling of cargo ships machinery, on board safety procedures, principles and operational guidance for engineers working on board and those who working ashore . For any remarks please Contact us

Copyright © 2010 Machinery Spaces.com All rights reserved.




Machinery Spaces.com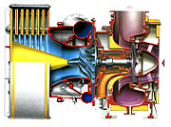 Home page

Marine diesel engines - Main propulsion machinery

Steam generating plant -Boiler arrangements

Feed systems for auxiliary boilers and steam turbines

Steam turbines - Energy conversion process

Fuel oil & lub oil treatment & centrifugal process

steering gear arrangement, testing & regulatory requirement

Pumps and pumping arrangement

Valves and pipelines for machinery spaces

Refrigeration of cargo spaces and storerooms

Heating, ventilation & air conditioning

Propeller shaft arrangement

Power generation , supply & distribution system

Deck machineries & cargo gears

Control and instrumentation

Fire protection

Engine room safety

Auxiliary Feed systems for boilers and steam turbines

Terms and conditions of use

Read our privacy policy