A combustion control system capable of accepting rapid load changes is shown in Figure . Two control elements are used, 'steam flow' and 'steam pressure'. The steam pressure signal is fed to a two-term controller and is compared with the desired value. Any deviation results in a signal to the summing relay.
The steam flow signal is also fed into the summing relay. The summing relay which may add or subtract the input signals provides an output which represents the fuel input requirements of the boiler. This output becomes a variable desired value signal to the two-term controllers in the fuel control and combustion air control loops.
A high or low signal selector is present to ensure that when a load change occurs the combustion air flow is always in excess of the fuel requirements. This prevents poor combustion and black smokey exhaust gases. If the master signal is for an increase in steam flow, then when it is fed to the low signal selector it is blocked since it is the higher input value.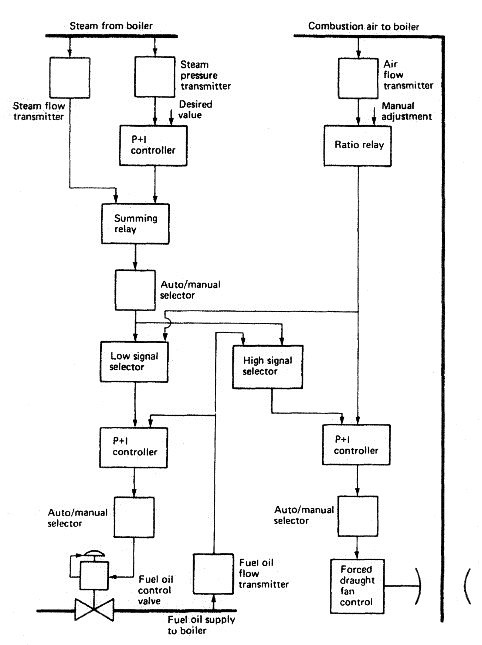 Fig:Boiler combustion control system
When the master signal is input to the high signal selector it passes through as the higher input. This master signal now acts as a variable desired value for the combustion air sub-loop and brings about an increased air flow. When the increased air flow is established its measured value is now the higher input to the low signal selector. The master signal will now pass through to bring about the increased fuel supply to the boiler via the fuel supply sub-loop. The air supply for an increase in load is therefore established before the increase in fuel supply occurs. The required air to fuel ratio is set in the ratio relay in the air flow signal lines.
Related Info:
General arrangement for marine boiler
Water tube boilers
Fire tube boilers
The use of boiler mountings
Combustion process - supply of air
Purity of boiler feedwater
Boiler feed pump operational safety
Boiler feedwater treatment
The steam to steam generator
Combustion process - supply of fuel oil
Safety valves
Boiler water level control -operational safety
Water level gauges
Boiler operation -additional safety
Double evaporation boilers
Exhaust gas heat exchangers
Fuel oil burning process - various design burners
Ordinary spring-loaded Boiler safety valve
Requirement for various boiler types on board cargo ships
Safety precautions for working with marine boiler
Exhaust gas heat exchangers
Boiler arrangement - combustion process - supply of air
How to control combustion in a marine boiler
Pressure jet burner,Rotating cup burner,Steam blast jet burner & Air register for side fired boiler
How to maintain water level in a marine boiler ?
Purity of boiler feedwater
Boiler feedwater treatment
The steam-to-steam generator working principle and operational procedure
Safety precautions for working with marine boiler
Marine machineries - Useful tags
Marine diesel engines
||
Steam generating plant
||
Air conditioning system
||
Compressed air
||
Marine batteries
||
Cargo refrigeration
||
Centrifugal pump
||
Various coolers
||
Emergency power supply
||
Exhaust gas heat exchangers
||
Feed system
||
Feed extraction pump
||
Flow measurement
||
Four stroke engines
||
Fuel injector
||
Fuel oil system
||
Fuel oil treatment
||
Gearboxes
||
Governor
||
Marine incinerator
||
Lub oil filters
||
MAN B&W engine
||
Marine condensers
||
Oily water separator
||
Overspeed protection devices
||
Piston & piston rings
||
Crankshaft deflection
||
Marine pumps
||
Various refrigerants
||
Sewage treatment plant
||
Propellers
||
Power Plants
||
Starting air system
||
Steam turbines
||
Steering gear
||
Sulzer engine
||
Turbine gearing
||
Turbochargers
||
Two stroke engines
||
UMS operations
||
Drydocking & major repairs
||
Critical machinery
||
Deck machineries & cargo gears
||
Control and instrumentation
||
Fire protection
||
Engine room safety
||