Machinery Spaces.com Home || Diesel engines ||Boilers||Feed systems ||Steam turbines ||Fuel treatment ||Pumps ||Valves ||Refrigeration ||



Boiler arrangement - Ordinary spring-loaded Boiler safety valve

The use of spring-loaded Boiler safety valves:A boiler is used to heat feed water in order to produce steam. The energy released by the burning fuel in the boiler furnace is stored (as temperature and pressure) in the steam produced.



Safety valves are fitted in pairs, usually on a single valve chest. Each valve must be able to release all the steam the boiler can produce without the pressure rising by more than 10% over a set period.

Spring-loaded valves are always fitted on board ship because of their positive action at any inclination. They are positioned on the boiler drum in the steam space.

The ordinary spring loaded safety valve is shown in Figure below. The valve is held closed by the helical spring whose pressure is set by the compression nut at the top.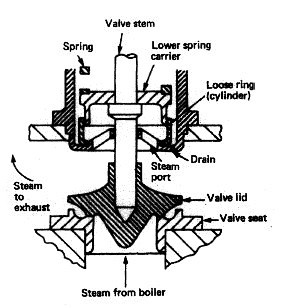 Fig:Boiler highlift safety valve


The spring pressure, once set, is fixed and sealed by a Surveyor. When the steam exceeds this pressure the valve is opened and the spring compressed. The escaping steam is then led through a waste pipe up the funnel and out to atmosphere.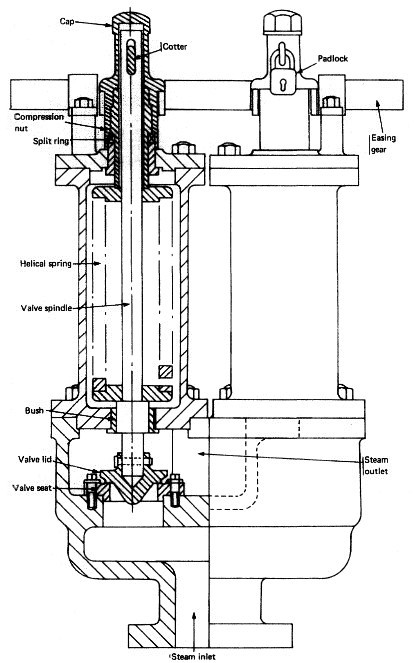 Fig:Ordinary spring-loaded Boiler safety valve


The compression of the spring by the initial valve opening results in more pressure being necessary to compress the spring and open the valve further. To some extent this is countered by a lip arrangement on the valve lid which gives a greater area for the steam to act on once the valve is open. A manually operated easing gear enables the valve to be opened in an emergency. Various refinements to the ordinary spring-loaded safety valve have been designed to give a higher lift to the valve.


The use of improved high-lift safety valve

The improved high-lift safety valve has a modified arrangement around the lower spring carrier, as shown in Figure above. The lower spring carrier is arranged as a piston for the steam to act on its underside. A loose ring around the piston acts as a containing cylinder for the steam. Steam ports or access holes are provided in the guide plate. Waste steam released as the valve opens acts on the piston underside to give increased force against the spring, causing the valve to open further. Once the overpressure has been relieved, the spring force will quickly close the valve. The valve seats are usually shaped to trap some steam to 'cushion' the closing of the valve.

A drain pipe is fitted on the outlet side of the safety valve to remove any condensed steam which might otherwise collect above the valve and stop it opening at the correct pressure.



Summarized below marine boiler detail Info pages:





































Marine machineries - Useful tags

Marine diesel engines ||Steam generating plant ||Air conditioning system ||Compressed air ||Marine batteries ||Cargo refrigeration ||Centrifugal pump ||Various coolers ||Emergency power supply ||Exhaust gas heat exchangers ||Feed system ||Feed extraction pump || Flow measurement || Four stroke engines || Fuel injector || Fuel oil system || Fuel oil treatment ||Gearboxes || Governor || Marine incinerator || Lub oil filters || MAN B&W engine || Marine condensers || Oily water separator || Overspeed protection devices || Piston & piston rings || Crankshaft deflection || Marine pumps || Various refrigerants || Sewage treatment plant || Propellers || Power Plants || Starting air system || Steam turbines || Steering gear || Sulzer engine || Turbine gearing || Turbochargers || Two stroke engines || UMS operations || Drydocking & major repairs || Critical machinery || Deck machineries & cargo gears || Control and instrumentation ||Fire protection ||Engine room safety ||






Machinery Spaces.com is about working principles, construction and operation of all the machinery items in a ship intended primarily for engineers working on board and those who working ashore . For any remarks please Contact us

Copyright © 2010-2016 Machinery Spaces.com All rights reserved.
Terms and conditions of use
Read our privacy policy|| Home page||