A centrifugal pump with a priming device is usually used, driven by an electric motor housed in an air bell. The power supply is arranged from the emergency generator. A typical system is shown in Figure . The various pumps and lines are interconnected to some extent so that each pump can act as an alternative or standby for another.
The ballast system
The ballast system is arranged to ensure that water can be drawn from any tank or the sea and discharged to any other tank or the sea as required to trim the vessel. Combined or separate mains for suction and discharge may be provided. Where a tank or cargo space can be used for ballast or dry cargo then either a ballast or bilge connection will be required. The system must therefore be arranged so that only the appropriate pipeline is in service; the other must be securely blanked or closed off. Where tanks are arranged for either oil or ballast a change-over chest must be Fitted in the pipeline so that only the ballast main or the oil transfer main is connected to the tank.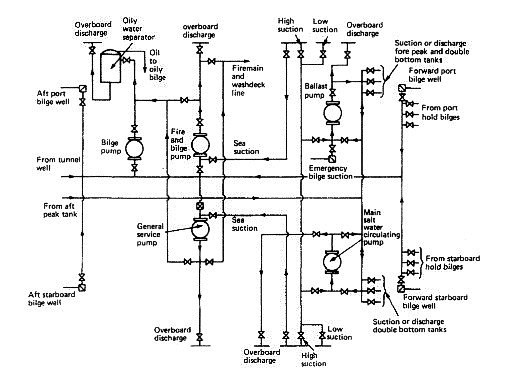 Fig: Bilge and ballast systems on board
Related Info:
Air ejector arrangement & working procedure
Centrifugal pump principles and working procedure


Machinery Spaces.com is about handling of cargo ships machinery, on board safety procedures, principles and operational guidance for engineers working on board and those who working ashore . For any remarks please Contact us

Copyright © 2010 Machinery Spaces.com All rights reserved.