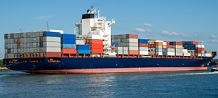 Home || Diesel Engines ||Boilers||Feed Systems ||Steam Turbines ||Fuel Treatment ||Pumps ||Refrigeration ||
Electrical Remote Control System for Ships Steering Gear
The steering gear provides a movement of the rudder in response to a signal from the bridge. The total system may be considered made up of three parts, control equipment, a power unit and a transmission to the rudder stock.

The control equipment conveys a signal of desired rudder angle from the bridge and activates the power unit and transmission system until the desired angle is reached. The power unit provides the force, when required and with immediate effect, to move the rudder to the desired angle. The transmission system, the steering gear, is the means by which the movement of the rudder is accomplished.

Electrical control
The electrical remote control system is commonly used in modern installations since it uses a small control unit as transmitter on the bridge and is simple and reliable in operation.

The control box assembly, which is mounted on the steering gear, is shown in Figure . Movement of the bridge transmitter results in electrical imbalance and current flow to the motor. The motor drives, through a flexible coupling, a screw shaft, causing it to turn. A screw block on the shaft is moved and this in turn moves the floating lever to which a control rod is attached.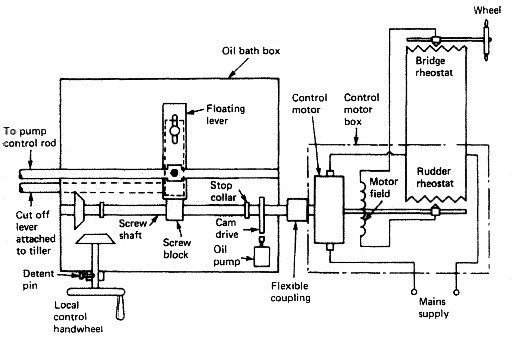 Fig:Steering gear electrical control

The control rod operates the slipper ring or swash plate of the variable delivery pump. A cut-off lever connected to the moving tiller will bring the floating lever pivot and the lever into line at right angles to the screw shaft axis. At this point the rudder angle will match the bridge lever angle and the pumping action will stop. The rotating screw shaft will have corrected the electrical imbalance and the motor will stop.

For local manual control, the electrical control is switched off and a small handwheel is connected to the screw shaft. A detent pin holds the handwheel assembly clear when not in use. Rotation of the handwheel will move the floating lever and bring about rudder movement as already described.


Related information





















Marine machineries - Useful tags

Marine diesel engines ||Steam generating plant ||Air conditioning system ||Compressed air ||Marine batteries ||Cargo refrigeration ||Centrifugal pump ||Various coolers ||Emergency power supply ||Exhaust gas heat exchangers ||Feed system ||Feed extraction pump || Flow measurement || Four stroke engines || Fuel injector || Fuel oil system || Fuel oil treatment ||Gearboxes || Governor || Marine incinerator || Lub oil filters || MAN B&W engine || Marine condensers || Oily water separator || Overspeed protection devices || Piston & piston rings || Crankshaft deflection || Marine pumps || Various refrigerants || Sewage treatment plant || Propellers || Power Plants || Starting air system || Steam turbines || Steering gear || Sulzer engine || Turbine gearing || Turbochargers || Two stroke engines || UMS operations || Drydocking & major repairs || Critical machinery || Deck machineries & cargo gears || Control and instrumentation ||Fire protection ||Engine room safety ||





Machinery Spaces.com is about working principles, construction and operation of all the machinery items in a ship intended primarily for engineers working on board and those who working ashore . For any remarks please Contact us

Copyright © 2010-2016 Machinery Spaces.com All rights reserved.
Terms and conditions of use
Read our privacy policy|| Home page||