Home || Diesel Engines ||Boilers||Feed Systems ||Steam Turbines ||Fuel Treatment ||Pumps ||Refrigeration ||
Marine Heat Exchanger Maintenance Guideline
All heat exchangers are to be kept in a clean condition so that heat transfer is not impeded. In heat exchangers, where sea water is the cooling medium, care is to be taken to see that dirt or sea growth does not cause any restriction of water flow as this may give rise to erosion taking place due to what is known as bubble impingement. Anti-corrosion devices must also be fitted in such a manner that they do not impede flow.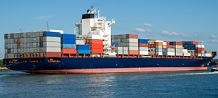 Many cases of erosion in tubes, tube plates and covers have come about through circulating heat exchangers with pumps of too large a capacity, the effect is that very high velocities are required to pass the water handled by the pump, these high velocities bring about other factors which cause erosion and wastage. A common case where this occurs is with refrigerating condensers and is due to circulating them with a pump of large capacity such as a ballast pump or general service pump.

Failures of both tube and plate heat exchangers/coolers are usually due to corrosion/erosion caused by material failure through fatigue, turbulence or fouling. If this occurs, and oil enters the water side, it will result in a pollution incident with the discharge of oil overboard. These types of failures can be prevented through regular inspections, tests and monitoring of the cooler's performance (i.e. temperature changes, flow rates and pressure).

The following jobs MUST be included in the PMP/PMS for all oil coolers that have direct overboard seawater cooling as the medium.
Anodes are to be inspected every three (3) months and renewed if more than 40% consumed;
Coolers are to be opened for inspection every 6 months. This is to be discussed and agreed with your Fleet Superintendent as the interval may be significantly less where experience and trading pattern (i.e.shallow river waters) has found that coolers have to be cleaned at shorter periods due to heavyfouling;
All Lubricating Oil system coolers with direct Sea Water overboard are to be pressure tested to 1.5 times the normal operating pressure at intervals of:

a. 12 months for Coolers <20 years in age
b. 6 months for Coolers >20 years in age
For coolers >10 years of age with no record of any pressure tests, this must be completed as soon as possible, in consultation with your Fleet Superintendent.

Note: For tube type coolers, particular attention should be paid to the internal condition of the tubes in way of the inlet end where turbulent flow can cause pitting of the tube leading to early failure. Should there be any indication of pitting, the pressure test interval should be reduced to 6 months.

In the case of a tube type cooler, tubes can be plugged if found to be leaking, however if more than 10% are plugged, the decrease in cooling performance may have an effect on the full load carrying capacity of the plant or system in question. Where tubes are plugged in a cooler it should be carefully monitored and scheduled repairs arranged for the next docking period.

Which points need to be considered in the design/selection of a heat exchanger?

Points to be considered in the design / selection of a heat exchanger are:
The quantity of fluid to be cooled, min ­ max
range of inlet and outlet temperatures of fluid being cooled as above for cooling medium
specific heat of mediums
type of medium, ie corrosive or non-corrosive
operating pressures
position of system.
cost, materials, streamline or turbulent flow.
Importance of streamline and turbulent flow to the design/selection of heat exchangers

Streamline-flow


The drawing right shows streamline flow of a liquid whose velocity variation is parabolic, being maximum at the centre and zero where fluid is in contact with the pipe or plate surface.



Turbulent-flow


The drawing right shows turbulent flow of liquid where velocity is present even at the pipe surface. For efficient heat transfer, turbulent flow is best, but erosion of metal surface is greatest.

For little erosion, streamline flow is required, but heat transfer will be relatively poor. Whether flow is streamline or turbulent depends on certain factors which are summed up by the REYNOLD'S number:
If the number is less than 2000, the flow is streamline
if the number is greater than 2000, the flow is turbulent.




Related Information:

Advantages of various heat exchangers

Sea water circulation of coolers for lubricating oil, piston cooling, jacket water, charge air, turbo-charger

Lubricating oil system for a marine diesel engine - how it works

Four stroke cycle diesel engines

The fuel oil system for a diesel engine

Function of fuel injector

Lubricating oil system for a marine diesel engine

Fresh water & sea water cooling system

Two stroke cycle diesel engines

Scavenging methods

Dealing scavange fires

Starting air system for diesel engine

Power measurement -Engine indicator

Sea water circulation of coolers

Gearing arrangement

Function of governors

MAN B&W diesel engine

Sulzer RTA72U diesel engine

Couplings, clutches and gearboxes of a marine diesel engine

Explosion relief valve

Cylinder relief valve

Diesel engine Turning gear

Crankcase oil mist detector


Marine machineries - Useful tags

Marine diesel engines ||Steam generating plant ||Air conditioning system ||Compressed air ||Marine batteries ||Cargo refrigeration ||Centrifugal pump ||Various coolers ||Emergency power supply ||Exhaust gas heat exchangers ||Feed system ||Feed extraction pump || Flow measurement || Four stroke engines || Fuel injector || Fuel oil system || Fuel oil treatment ||Gearboxes || Governor || Marine incinerator || Lub oil filters || MAN B&W engine || Marine condensers || Oily water separator || Overspeed protection devices || Piston & piston rings || Crankshaft deflection || Marine pumps || Various refrigerants || Sewage treatment plant || Propellers || Power Plants || Starting air system || Steam turbines || Steering gear || Sulzer engine || Turbine gearing || Turbochargers || Two stroke engines || UMS operations || Drydocking & major repairs || Critical machinery || Deck machineries & cargo gears || Control and instrumentation ||Fire protection ||Engine room safety ||





Machinery Spaces.com is about working principles, construction and operation of all the machinery items in a ship intended primarily for engineers working on board and those who working ashore . For any remarks please Contact us

Copyright © 2010-2016 Machinery Spaces.com All rights reserved.
Terms and conditions of use
Read our privacy policy|| Home page||