Home || Diesel Engines ||Boilers||Feed Systems ||Steam Turbines ||Fuel Treatment ||Pumps ||Refrigeration ||
Advantages of various Heat exchangers - Shell / tube and plate type
Sketch of a shell type heat exchanger: The sketch shows a tube/shell type cooler that could be used as a main engine jacket water cooler. The cooler shown is of the two pass type, the jacket water being cooled, coming in contact with the outer side of the tube stack, and the shell surface. Baffles are used to direct the flow of jacket water through the cooler, and also support the tube stack. Seawater, being the cooling medium, is in contact with inside of the tubes.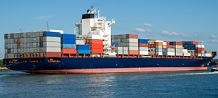 Materials used in the construction of the cooler are as follows: Shell ­ cast iron or fabricated steel waterboxes ­ fabricated from mild steel, their insides coated with rubber or anodes placed for protection against corrosion tubes ­ these are made from aluminium brass or cupro nickel tube plate ­ made from naval brass to allow for thermal expansion, one end of the stack is fixed, while the other is free to move to allow for expansion.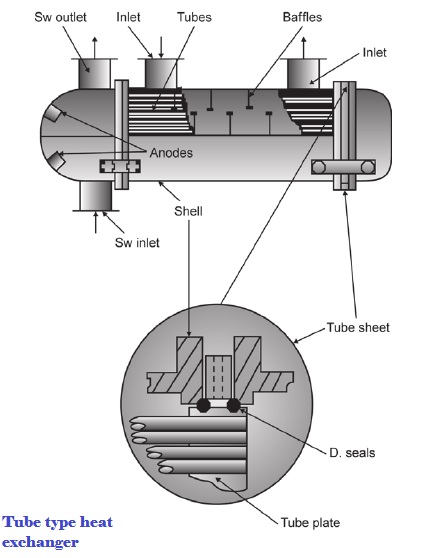 Sketch tube type heat exchanger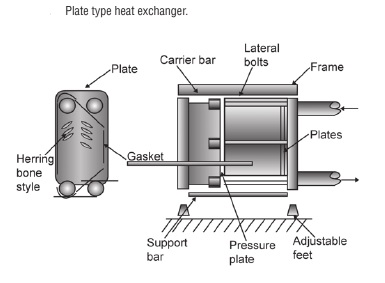 Plate type heat exchanger


This sketch shows a plate type heat exchanger. It consists of a variable number of gaskets and plates, clamped together between a frame and a pressure plate. The surface of the plates are corrugated in a herring bone style to give extra strength and a larger cooling surface area.

The principle advantages of a plate type heat exchanger are:
Compact and space saving
easily inspected and cleaned, all pipe connections are at the frame plate, so they do not need to be dismantled when plates are removed
variable capacity, plates can be altered to meet capacity demands
with titanium plates, there is virtually no erosion risk and they allow for turbulent flow which takes place between the plates to give greater heat transfer and enable fewer plates.
The principle advantages of a tube type heat exchanger are: Tubes are fixed in a condenser by being packed at both ends, expanded at the inlet and packed at the other or expanded at both ends.

Materials used in condenser construction are:
Shell ­ mild steel or cast iron
waterboxes ­ cast iron
tube plates ­ brass
diaphram and baffle plates ­ mild steel
tubes ­ aluminium bronze, stainless steel, cupro-nickel
stays ­ mild steel with stainless steel cap nuts.
10. Tubes are fixed in a condenser by: Being packed at both ends expanded at the inlet and packed at the other expanded at both ends.


Related Information:

Sea water circulation of coolers for lubricating oil, piston cooling, jacket water, charge air, turbo-charger

Lubricating oil system for a marine diesel engine - how it works

Four stroke cycle diesel engines

The fuel oil system for a diesel engine

Function of fuel injector

Lubricating oil system for a marine diesel engine

Fresh water & sea water cooling system

Two stroke cycle diesel engines

Scavenging methods

Dealing scavange fires

Starting air system for diesel engine

Power measurement -Engine indicator

Sea water circulation of coolers

Gearing arrangement

Function of governors

MAN B&W diesel engine

Sulzer RTA72U diesel engine

Couplings, clutches and gearboxes of a marine diesel engine

Explosion relief valve

Cylinder relief valve

Diesel engine Turning gear

Crankcase oil mist detector


Marine machineries - Useful tags

Marine diesel engines ||Steam generating plant ||Air conditioning system ||Compressed air ||Marine batteries ||Cargo refrigeration ||Centrifugal pump ||Various coolers ||Emergency power supply ||Exhaust gas heat exchangers ||Feed system ||Feed extraction pump || Flow measurement || Four stroke engines || Fuel injector || Fuel oil system || Fuel oil treatment ||Gearboxes || Governor || Marine incinerator || Lub oil filters || MAN B&W engine || Marine condensers || Oily water separator || Overspeed protection devices || Piston & piston rings || Crankshaft deflection || Marine pumps || Various refrigerants || Sewage treatment plant || Propellers || Power Plants || Starting air system || Steam turbines || Steering gear || Sulzer engine || Turbine gearing || Turbochargers || Two stroke engines || UMS operations || Drydocking & major repairs || Critical machinery || Deck machineries & cargo gears || Control and instrumentation ||Fire protection ||Engine room safety ||





Machinery Spaces.com is about working principles, construction and operation of all the machinery items in a ship intended primarily for engineers working on board and those who working ashore . For any remarks please Contact us

Copyright © 2010-2016 Machinery Spaces.com All rights reserved.
Terms and conditions of use
Read our privacy policy|| Home page||