Home || Diesel Engines ||Boilers||Feed Systems ||Steam Turbines ||Fuel Treatment ||Pumps ||Refrigeration ||
Compressed Air Systems for Various Shipboard Operations
The main aim of a compressor, as the name suggests, is to compress air or any fluid in order to reduce its volume. Some of the main applications of compressors onboard ships are main air compressor, deck air compressor, AC compressor and refrigeration compressor. Failure to start or control air compressor can be inconvenient, costly and can carry risks, which need to be managed.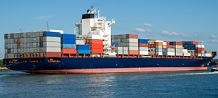 Compressed air has many uses on board ship, ranging from diesel engine starting to the cleaning of machinery during maintenance. Ships compressed air systems are usually divided into one or more of the following:
Main and auxiliary engine starting air system (high pressure).
Service air.
Control air.
Instrument air.
Deck services
Low pressure (5-8 bar) air may be supplied by either individual compressors or pressure reducing valves fitted within the high pressure circuit.

High Pressure System

The Main and Auxiliary Engine starting air supply is to be monitored carefully for excess oil and water. Where compressors are fitted with cylinder lubrication then particular attention to the cylinder oil feed is required. Moisture traps and drain valves are to be blown down at regular intervals. Should the blowdown indicate excessive oil or moisture then the reason is to be immediately investigated.

All operating valves in the starting air system are to be operated slowly and with extreme caution. Do not stand directly in front of a high pressure valve when opening or closing. The Engine Room Staff are to be made fully aware by the Chief Engineer of the importance of correct operation and maintenance of the starting air compressors, and the effects of their failure during manoeuvring of the vessel. During manoeuvring of the main engine the starting air compressors are to be monitored locally for any sign of overheating or problem.


Low Pressure System

Compressed air equipment which supplies low pressure air for control or instrument purposes must be monitored constantly for moisture or other contaminants. Air, which is wet or contaminated, will have detrimental affects upon engine manoeuvring systems and process control.

All filters and moisture traps are to be cleaned and serviced as per the maker's instructions or at intervals determined by operational experience. Short cycling of compressors indicated excessive consumption (leakage) must be investigated immediately. Long periods of compressor running are also to be investigated.


Dryers

For engine room service, refrigerant tap driers are normal practice. These units give long service with little maintenance, however manufacturer's instructions must be adhered to. In some cases, absorption type driers are fitted which require strict change over routines.


Deck Service Compressors

Unwarranted use of these machines is to be avoided at all times. It is essential that any deck services are shut down when not required. Supply from the main starting compressors via reducing valves is not to be used for deck general service air supply unless an emergency exists.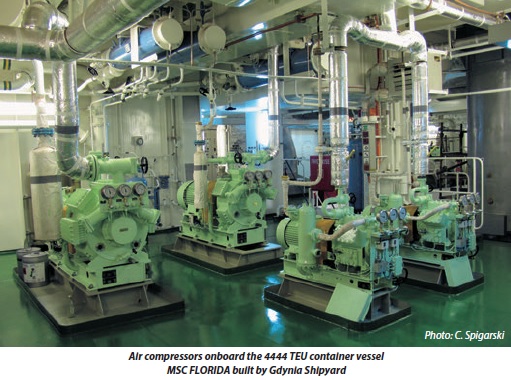 Fig: Air compressor onboard



Alarms

All compressor alarms, shut downs and measuring instruments are to be checked and calibrated at regular intervals and in line with the Planned Maintenance requirements. Emergency Air Compressors are to be tested as part of the weekly safety routines onboard.


Safety precautions

A recent case involving the failure of a control air compressor on board a ship illustrates how essential the control air system is to safe operations. The compressor in question provided compressed air to the main engine clutches. Failure of the air supply resulted in failure of the clutches. The ship sustained collision damage and subsequent delays.

The control air receiver was insufficiently topped up to re-engage the clutches. It is recommended that when one air compressor fails, the air receivers should be kept topped up at all times by the standby compressor.

Repair of the air compressor should be prompt. The engine room should operate a watch system and the Unattended Machinery Space notation should be considered suspended.

It is also recommended that the low air pressure alarm and set point be checked on a regular basis using currently calibrated gauges.




Related Info:


















Marine machineries - Useful tags

Marine diesel engines ||Steam generating plant ||Air conditioning system ||Compressed air ||Marine batteries ||Cargo refrigeration ||Centrifugal pump ||Various coolers ||Emergency power supply ||Exhaust gas heat exchangers ||Feed system ||Feed extraction pump || Flow measurement || Four stroke engines || Fuel injector || Fuel oil system || Fuel oil treatment ||Gearboxes || Governor || Marine incinerator || Lub oil filters || MAN B&W engine || Marine condensers || Oily water separator || Overspeed protection devices || Piston & piston rings || Crankshaft deflection || Marine pumps || Various refrigerants || Sewage treatment plant || Propellers || Power Plants || Starting air system || Steam turbines || Steering gear || Sulzer engine || Turbine gearing || Turbochargers || Two stroke engines || UMS operations || Drydocking & major repairs || Critical machinery || Deck machineries & cargo gears || Control and instrumentation ||Fire protection ||Engine room safety ||





Machinery Spaces.com is about working principles, construction and operation of all the machinery items in a ship intended primarily for engineers working on board and those who working ashore . For any remarks please Contact us

Copyright © 2010-2016 Machinery Spaces.com All rights reserved.
Terms and conditions of use
Read our privacy policy|| Home page||